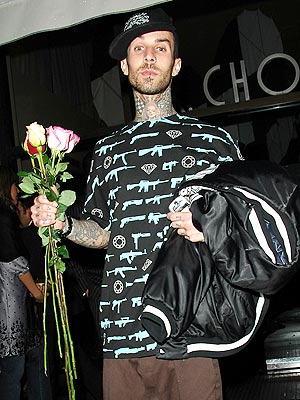 Most will admit that
Travis Barker
is a force to be reckoned with.
Blink 182
created classics that I'll still happily throw on and have any number of people starting singing along to it. Blink's back on top of shit making a new record coming off a recent tour, he's also working on a solo album, surviving almost lethal airplane crashes and on top of that he's a Dad. Gotta hand it to him mang. Travis takes care to not drown out the instrumentals of the original songs he works on like so many drummers do while playing for their own bands.
MTV interview:
"This song gets played so much — whether it be on TV or on the radio or XM — and I think songs like this that you can't escape, you start to get ideas in your head about how you'd want to flip it," Barker said. "And this song is awesome; every verse is crazy. Who could ask for a better lineup as far as rappers? And everyone's going in on their verse. So I was excited about it, I didn't have to think twice about getting on it." -Travis
He def. got on it...
Drake Ft. Kanye West, Lil Wayne, Eminem (Travis Barker Remix)